Rhodostethia rosea
Ross´s Gull / Rosenmås / Rosenmåge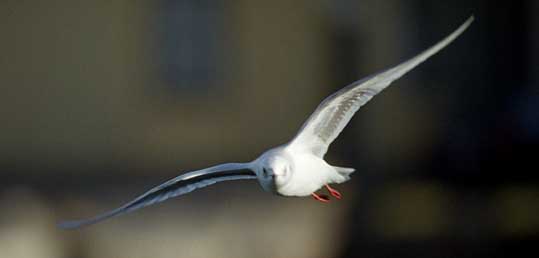 Ross Gull, Rhodostethia rosea, resting in the Harbour of the small town Skagen, at the top of peninsula Jutland, western part of Denmark, on Tuesday, February 15th 2000. This little beauty was reported there for a long weekend-stay from Saturday February 12th seen for the last time on Tuesday afternoon.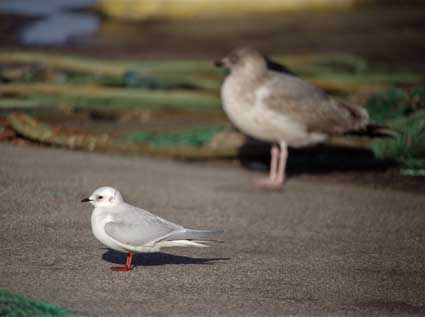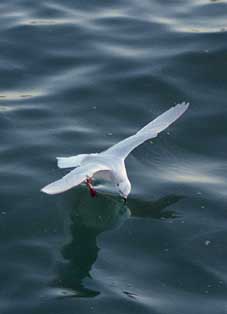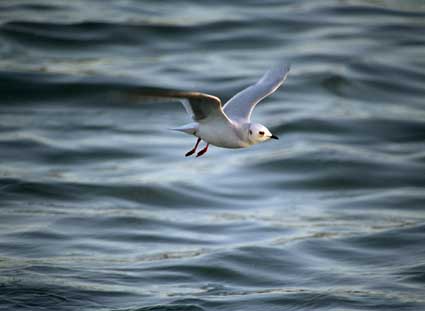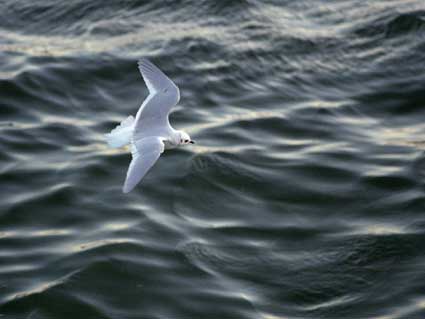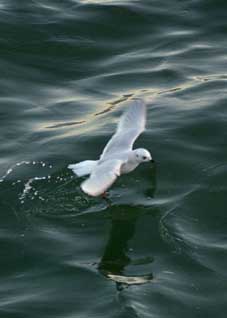 According to Murphy´s law The Canon ran out of film at exact that time, and as I cannot use the camera with my gloves on, and have to work bare handed, my fingers at this point were stiffend from cold which made it impossible, even with my thumbs to press down and at the same time move the little button left, to release the film, wind back and reload. Just couldn't do it.

And right in front of us, that little beauty was fluttering back and forth in the last minutes of sunlight picking food on or just below surface of the harbour's grey green waters. Had used up one Fuji. Standing on the rear of a small boat we are very close. Close enough to reach out and touch, and its an amazing sight. An amazing sight indeed, had it been any bird. This was the Ross Gull.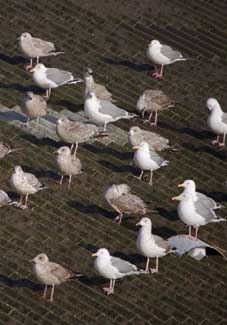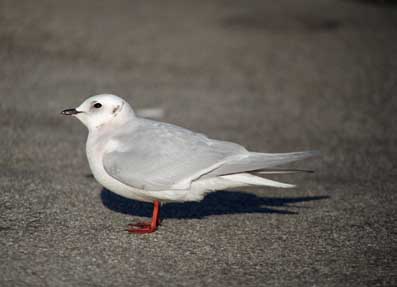 Breeding in the far eastern corners of Siberia between the rivers os Kolyma and Khroma a couple of hundred kilometers north of the Polarcircle. In the land of Permafrost. Other birds are breeding there, but at the end of July when the other species take off to go south, the Ross Gull flies the opposite way heading north. Flying towards the pole to winter on the East Siberian Sea between the Wrangel Islands and the New Siberian Islands, in the dark of the polar nights, on the pack ice itself or along the ice line where the food is plenty. But it also flies further up north. Fridtjof Nansen met the bird at 84.41, which is pretty far up. A greater number of birds winter on the pack-ice as far west as on The Barents and the Norwegian Seas, which again accounts for, the few birds that are found in the North sea countries including Denmark. Here the Ross Gull is reported seen 8 times including this one bird. First time ever, in 1955.

Along with us were a group of Belgian guys who had taken this opportunity to twitch a bird pretty seldom in their home Country with its small 40 miles of shoreline.
No sound available sorry.