Larus hyperboreus adult
Glaucous Gull / Vittrut / Gråmåge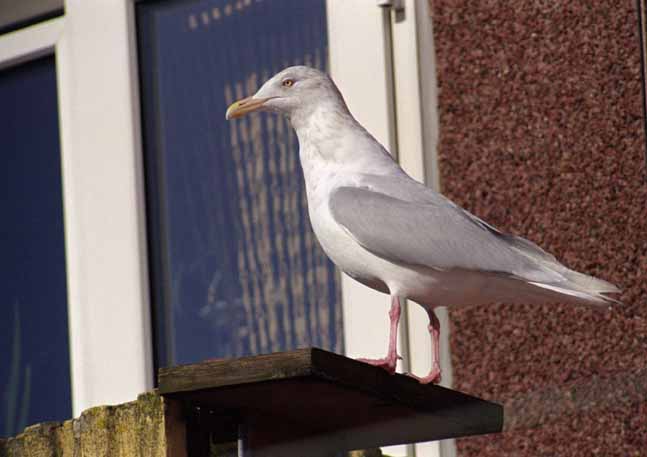 The Glaucous Gulls of Hirtshals.

Adult breeding Glaucous Gull (Larus hyperboreus) on a feedingtable over Skagavej, a busy road in smalltown Skagen Northern Denmark Sunday March 4. 2001.

By the time these pictures were shot there was only this one single Glaucous Gull in Denmark. As a matter of fact we know this for sure, because the weekend before all Danish harbors had been checked, thoroughly.

None was found.


Glaucous Gulls are not very commonly seen birds here anyway, but for some reason this individual for a couple of years now has returned to Skagen, a fishing hotspot at the top of peninsula, Jutland.
And its grown a habit of visitting the bird-feedingtables in the town, preferably on Skagavej near a wellknown supermarket, which by the way is not to close to the harbour.

Glaucous Gulls breeds on Iceland, in Greenland, in Canada, on Spitsbergen and in northern Russia, from where this bird must be expected to come, preferring neighbourhood of settlements, and colonies of Barnacle Goose Branta leucopsis, Kittiwake Rissa tridactyla, and auks (Alcidae).

I shall put on this page when the bird later takes of heading for breeding grounds.

ed.

Note: No reports of this Gull since Monday April 2. 2001