Oenanthe oenanthe
Northern Wheatear, Stenskvštta, Stenpikker
Northern Wheatear on the western pier of the yachting harbour of Hamlets town Helsingore, Denmark on a cold Monday, april 2nd. 2001.

Iīm not in a position to tell people too much exact stuff about birds. Stuff that they wouldn't know beforehand, but I have a deep inner resistance against showing pictures to people without telling at the least where and what and perhaps how they were taken.
Maybe this comes from my line of duty. These photos are reportage-photos. Not art. They are reportage showing a small piece of reallity. News pictures so to speak, and by the way, at the disposal of the Danish press.
To me photography is not an art. Its something else, not better, not worse but different from art. To me photography at its best is reportage.
But ok thatís my personal opinion.

And as a consequence to this Iím telling you that this Northern Wheatear was photographed on that Monday on that pier of the yachting harbour in Helsingore, as I was going through the pipits there.

It was watching me for quite a while. I noticed its light breast at some distance, and it took some waiting before it finaly entered the stones right in front of me, apparently to have a closer look at this human being, with the funny equipment, but then it really got it going.

It stayed in front of me for a full fifteen minutes.

Jumping around showing this side and that side and then the back, and all the time looking at me. Watching me as you can tell from the photos. And it really is a beauty. Isnít it.
And now it comes.
Rationally its hard to accept, I have to admit, and it maybe even sounds crazy, but I am convinced that there is some contact with some level of conciousness in this little creature and furthermore not necessarily something negative to the human species.
Itís a friendly little girl.

A friendly little female Wheatear just returned from its winterquarters in tropical Africa where the entire world population, winters just south of Sahara..
Actually the entire world population. Records of birds wintering elsewhere are very few and probably exceptional. .
And they can fly this distance.Wheatears also breed in Greenland and from here autumn migration involves south-east crossing of North Atlantic, and frequent records from ships south-east of Greenland shows clear evidence that large numbers fly from Greenland to western Europe non stop.

ed.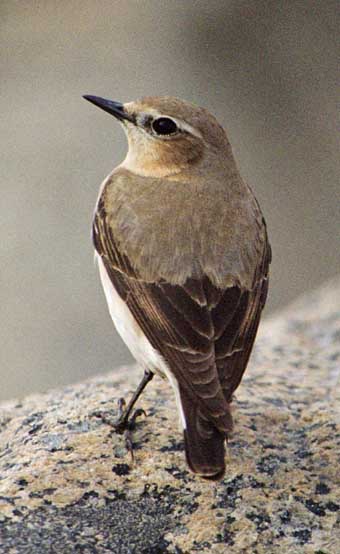 Northern Wheatear on the stones of the pier of Helsingore Yachting harbour Monday, April 2. 2001