Tawny owl / Natugle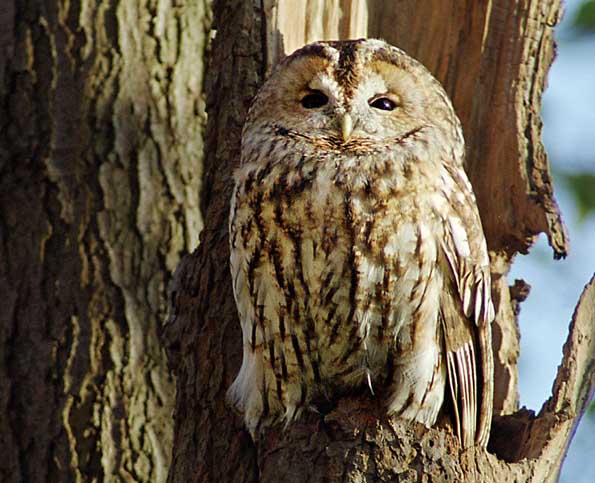 Tawny Owl is one of the most commonly seen owls in western Europe, and with 4000 to 5000 breeding couples its curtainly the most frequently seen owl in our Danish countryside.
Residental as it is, and all year remaining in its territory you can find it roosting anyday you like. This goes with the exception of the western parts of Jylland, where its not too frequently seen, and surely with the exception of some of the bigger Danish islands, Bornholm and Samsoe, where its not, and thats a fact, its not seen at all. This bird obviously doesnt like water.
But with theese exceptions Tawny Owls, its fair to say, is part of the Danish landscape.
Isn' t it nice.
And with more than 20 breeding couples Jaegersborg Dyrehave close to Copenhagen happens to be the number one place to go if you want to se them live..
This park, originally intended, and made exclusively for royal hunting parties a couple of hundred years ago, is an open forrest with lots of old trees, some oak trees actually more than a 1000 years old, and with plenty of open spaces as well, this place is designed for Tawny Owls.
And this is where theese pictures were shot.

According to the books Tawny Owls hunt in the dark of the night, mostly by use of an excessive hearing, and a Tawny Owls sleep through the day. This obviously doesn't count for this young guy. When I saw it in the afternoon on a blowy Novemberday it had me waiting an hour before it arrived to this, its favorite roosting-spot from some business elsewhere, and sitting there it never really relaxed.
I was waitng another hour an a half to se it flying, but then the light had gone.

The two Tawny Owls of Enrum Park