Surnia ulula
Northern Hawk Owl, H÷kuggla, H°geugle
´´

Northern Hawk Owl ( Surnia ulula ) on a branch in the forest of Grib Skov, only 18 miles north west of Copenhagen in Northern Zealand, found on a cold Monday January 16th and again on Thursday February 2nd 2006.

It looks like a Hawk. In fact it looks like a Hawk in several ways, and the striped feather structure on the breast is only one of them. The long tail is another and the choice of food and prey yet another, but one thing certainly separates hawk Owls from the real Hawks.
Hawk Owls are not afraid, not afraid of people anyway. At least that goes for this guy.

We were watching it sitting at the top of a sixty feet pine, waving back and forth in the fairly strong winds, happily enjoying the sight of our Danish landscape, which for Hawk Owls is a rare sight.. when the bird suddenly took a dive. Took a dive directly against us.

Threw itself out from its sixty feet watch point, coming down fast, levelled at ten feet and passed over our heads, and came to a land behind us, on a two inch branch, now sitting as close as it only happens in dreams. As close as you can imagine.

These visitors from northern Swedish or northern Norwegian woods really have a nice, unspoiled approach to the human race.
´´´

You could hear its claws strong grip. Feel the weight of the sizeable wild creature. Sence its set of yellow eyes looking over your shoulder or dead-straight through you, aimed at some point behind our backs. This hawk Owl didn't care. Didn't se any of us, and stayed in position for

more than a minute. From the first frame shot when I got my tripod moved, positioned for better light, to the last frame, shot when the bird left its two inch branch, is exactly 69 seconds. Digi cameras remember things like that for you.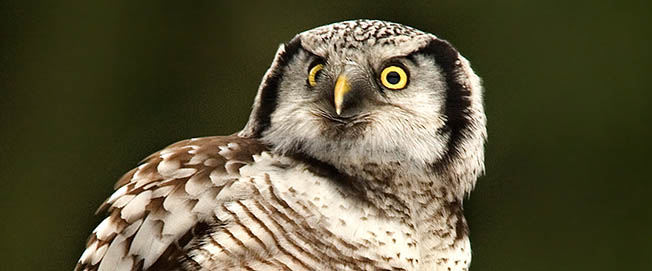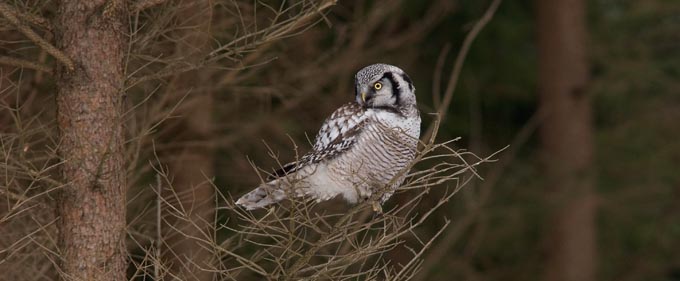 | | |
| --- | --- |
| | |